The Travel Bucket List You Should Have!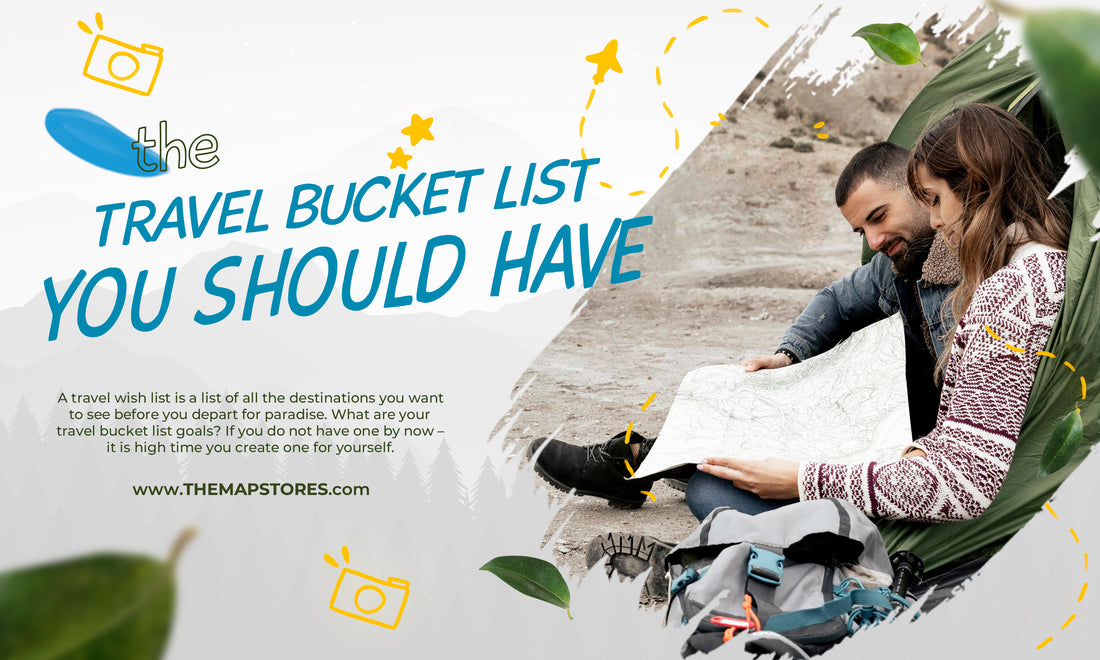 Have you realized that in these fast-paced lives of ours - are we living?
In this fight for life – while doing our daily chores and responsibility – somewhere, we miss living our lives to the fullest! To avoid missing out – and living your life – try the travel bucket list.
But what is a travel bucket list?
A travel wish list is a list of all the destinations you want to see before you depart for paradise. What are your travel bucket list goals? If you do not have one by now – it is high time you create one for yourself.
Craft Your Bucket List
Creating your travel bucket list would not cost you a penny. It would just take around an hour or so to create one. What will you gain from it?  
You will attain a strong sense of what you aspire to in life. The best Bucket Lists blend finding yourself, having amazing experiences, and giving back to the world.
Travel to faraway places, become a master, or try something new for the first time, define your comfort zone, and then step outside of it. There are numerous fantastic sights to explore on this planet. A little extra inspiration, on the other hand, never hurts.
These once-in-a-lifetime travel bucket list ideas will inspire you to plan your next new trip, from must-see cities around the world to African safaris.
Explore Petra
The city of rose-colored sandstone in Jordan is a remarkable sight. One of the most well-known ancient sites in the world is Petra, tucked away in the highlands near the Dead Sea on the edge of the Arabian Desert. The architectural wonders of the city stem from the fact that it was carved directly from the Sandstone Mountains. Not to miss the tombs, temples, and monasteries!
Hike to Machu Picchu
Many tourists wish to visit the Incas' lost city in Peru. Machu Picchu is an Inca fortress located at an altitude of 2,430 meters above sea level. It can be reached by train through the Urubamba River valley or by hiking on mountain trails. Machu Picchu is sure to exceed your expectations as one of the top tourist sites in the entire globe and the most popular in South America.
Have fun at the Sydney Opera House.
The Sydney Opera House is a multi-performing arts center in Sydney. It is a work of art of 20th-century architecture and a symbol of creativity and imagination. These shell-shaped buildings have become a symbol of architecture around the world, set against an impressive waterscape.
Soak in the Norway aurora borealis
The Northern Lights, one of the most amazing phenomena in nature that can take your breath away, should be on every traveler's bucket list. A natural illumination show called the Northern Lights takes place in the sky. Norway with its low light pollution and wide open spaces is one of the best places to try to catch the most spectacular light show. So make an effort to spot the Northern Lights!
Discover the glorious Angkor Wat
Angkor Wat is the epitome of Khmer creativity. It is a majestic temple that is outstanding for its enormous splendor and fine craftsmanship. It is one of the most significant archeological sites in the country.
Embark on a wildlife safari in Serengeti National Park
One of the belongings on your bucket list has to be going on a safari in Africa. It is one of the most well-known national parks in the world and is equivalent to African animals and breathtaking beauty. It is a UNESCO World Heritage Site and the oldest park in Tanzania. It also hosts the stunning wildebeest migration and provides wildlife sightings all year.
Amaze yourself by the Geysir in Iceland
Iceland is a stunning country, and the Great Geysir is one of the most remarkable and awe-inspiring geysers in Iceland. It has to be on your bucket list to witness the massive geyser erupts, launching phenomenal water and stream flow into the air. The volcanoes, geysers, breathtaking views, and glaciers of Iceland make it one of the most interesting places to visit in the world.
Experience Alaska Cruise
Being one with the sea is one of the best ways to appreciate the splendor of Alaska's glaciers. There are many Alaskan cruises available. Before embarking, be sure you are ready for pure white landscapes, pristine icescapes, and marine life.
In the End:
Finding inspiration is simple; all you need is the confidence to act. So, why are you holding out? It's never too early to start exploring; you don't need to wait until you have the best excuse.
These suggestions can be added to your list and crossed off as you go.
Put these places on paper and start planning; you won't regret going to any of them. A lot of them require advanced preparation.
Much better – how about putting up a wooden world map on the wall? Your best source of travel inspiration will be a wooden world map from The Map Store. So, feel free to browse our website for a wide selection of wooden globe maps that will be ideal for you.