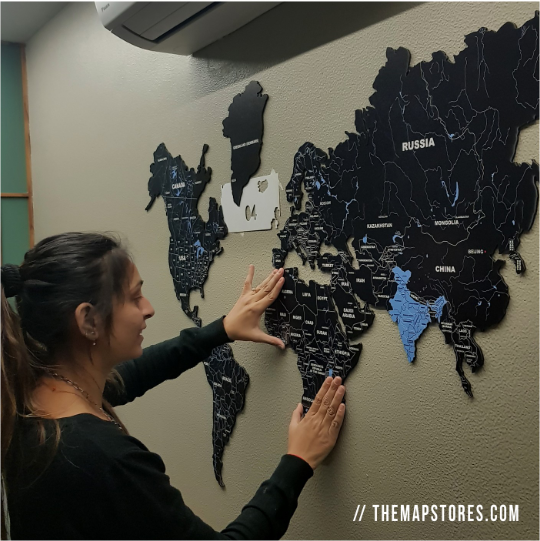 Who we are
The Map Store – based in Ahmedabad, is an exclusive provider of unique wooden world maps. We are the pioneers in designing and manufacturing world maps on wood in India. The Map store launched in 2021. The aim was to create a Made in India product – wherein our people do not have to import this stunning piece of art from any foreign land.
The Map Store offers 3D wooden world maps, colored wooden world maps, and customized world maps. Wooden world maps - as wall décor - not only serve as an information product but also add a lot of style to the room. Looking at the carvings of various locations on a piece of wood can entice one's interest in travel. When such beauty is on a wall, it elevates the space vibe to a new level.
Our Team
The team at The Map Store comprises young and enthusiastic individuals. Our creative and efficient team interacts with the clients to understand their precise requirements. Once we have the details, our team strives to deliver their desired product.
Why choose us ?
Company Vision
The vision of The Map Store is to market its unique product not just in India but all across the globe. Our World Maps are not just plain wall decor. It's a perfect choice for any interior and a great conversation starter with friends and visitors alike.
Company Mission
The mission of The Map Store is to create unique and authentic wooden world maps that are a perfect artwork representation of the actual world map. Our current focus is to market our Made in India product across all states in our country.