Five Reasons A World Map Is Much Better Than Yet Another Wall Painting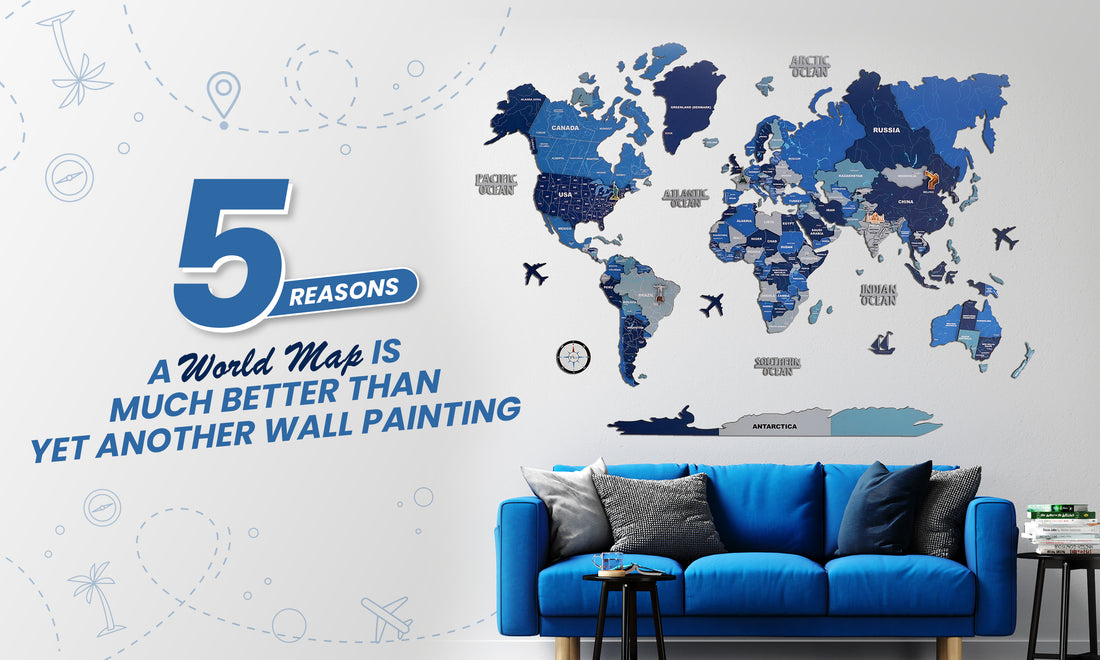 Interior décor for homes and offices is an upward trend in recent times. Whatever size your space or budget –big or small, all of us are keen to design and décor your space. After all, anything is much better than looking at the plain walls, isn't it?
Quite often – when the point is to style your wall – we would either opt for a photo frame, mirror, wallpaper, or a painting. But don't you think so? – that all these products for your wall décor are a thing of the past!!
Think something different and unique; think out of the box to style your wall – be it for your home or office.
How about opting for a wooden world map for wall décor?
Sounds new and refreshing? A world map on your home or office walls will look more aesthetic compared to any other wall painting or wall adornment.
Presenting a few reasons to accentuate the need for a world map in your space.
Décor
The main reason to get a detailed and colorful world map is that it adds color and interest to your room and makes it come to life.
The rustic wooden map gives your room a more elegant and lavish appearance. It no longer appears to be merely functional but an artistic piece of wall décor.
Personalization
Having a world map adorn your wall – adds a personal touch to your interiors. Whether you enjoy traveling the world or not, having a visual cue of the world in your home is a great idea.
The wooden world map wall art is perfect for those who want to display their wanderlust in a unique way. Also, you can personalize the space by adding photos of places you have visited or wish to travel to in the future.
Educational
Wooden world maps are a great option not just for homes and offices but also for educational institutions.
We all know and believe that observing practical things, rather than reading books, has a profound impact on young minds. Children are bound to get curious and may ask questions about geographical locations across the globe.
Conversation Starter
A world map on your wall, rather than a picture frame or a wall painting, will pique your interest.
The world map is sure to catch a person's attention the moment they walk into the room. It will naturally lead to interesting conversations and discussions.
Inspirational
You might find inspiration for future travels by incorporating a world map on your wall. Why not consider one of the top wooden world maps if this is something you might require?
Nothing says I am going to explore the world like a world map on your wall!
A wooden world map is the ideal decor piece for you if you are eager to get your passport stamped and go to new continents and nations! it creates a sense of traveling the world from your home.
A colorful world map on light-colored walls is a work of art that can brighten up your blank walls while also chronicling and planning your travel adventures.
In the End:
On this note – I have briefed up numerous reasons for you to opt for a world map for your wall décor instead of another wall painting.
Why not choose one of the best wooden world maps, such as the one from The Map Store, instead of a simple canvas print or a poster map?
A wooden world map can be extremely classy. It can also add a sense of awe and charisma to your room. It will be a great conversation starter as a centerpiece or decoration.
Surf through the many wooden world maps available on our website. Some are almost like works of art, while others provide more geographical detail. Keep in mind that while our world maps resemble the original ones, they differ substantially.
Whatever style you prefer, we are confident you will find something to your liking!